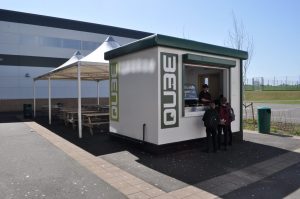 From 2020 we have, with great success, staggered lunch and break times for KS3 and KS4. Students can either bring their lunch from home or purchase it from the outlet that is designated for their year group. Students have a choice of a range of dishes ranging from pasta pots and paninis to more traditional meals and puddings. Students have breaks at the following times: 
KS3 breaks: 11:10am – 11:35am, 1:40pm – 2:10pm 
KS4 breaks: 10:10am – 10:35am, 12:40pm – 1.10pm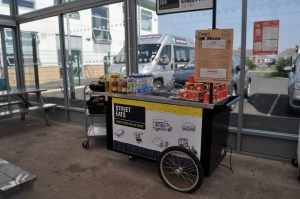 Year 7 – Use the West yard for break and lunch and can use the Food Qube. There is bench seating on the yard and picnic tables under the canopies. Students can also use the tennis courts and sports fields. In wet weather students will usually shelter in the auditorium or dance studio.
Year 8/Year 10 – Use the East Yard and can use the Food Qube. Picnic tables under the canopies and in 'the greenhouse.' Use of the field. In wet weather students will shelter in the sports hall.
Year 9/Year 11 – Use of the cafe for break and lunch. Students can also use the field.


Menus
Payment and Costs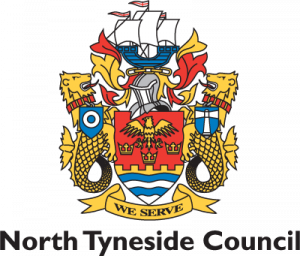 Pay the way that suits you best
Another way to pay for school meals – card payments now available
Students can either pay using ParentPay account or use their own debit card to make purchases at the till at morning break and lunch time. They can use their card to pay contactless or chip & pin on a Barclaycard card reader. These purchases will not appear on your ParentPay account.
Please see our tariff on NTC / schools' websites. The lunchtime offer includes meals packaged at £2.25 along with additional individual items.
ParentPay and free school meals allowance
Is your child eligible for free school meals? If so, your child's account is credited with £2.25
each day they are in school. Purchases over £2.25 are not covered by the free school meal
allowance. Parents should always check ParentPay on a regular basis to ensure your account is in credit and that you know how much is being spent each day.
If you require activation details, a QR code or Pin Number, please email
[email protected] giving details of your child's name and school.