The following information is being shared with our students as a reminder to stay safe and use social media appropriately outside of school.
The Holiday Activity Fund is a national offer for children and young people to provide enriching experiences and food outside of term time.
As part of the Holiday Activity and Food Programme (HAF) North Tyneside Council has received funding from the Department for Education to deliver a summer activity programme and we would like to find out from you what you would like to see in your local area for children.
Please fill out the survey linked below. It should only take 5 minutes to complete. If you have any other questions, comments or queries please email [email protected]
Our Class of 2020 are invited to collect your exam certificates from the school office from Monday 19th April.
They will be available from 8.30am – 4.00pm (Monday to Thursday) and 8.30am – 3.00pm on Friday.
You must collect them in person and bring identification. If you wish to arrange for somebody to collect them on your behalf please contact Ms S. Lively at [email protected]
Thank you.
Welcome to Marden High! The following welcome pack has been sent digitally to all parents/carers who have a child starting at Marden in September 2021.
We look forward to working with you and your child over the next few months in order to ensure a successful transition to our school in September 2021. Linked here is a Google Form survey and we would be grateful if you could complete this as soon as possible. We have also included some information about our uniform policy and PTA.
We would also like to highlight the transition section of our school website, which has lots of information for yourself and your child to look through, including welcome videos from students and some members of staff.
If you have any queries about any part of the transition process, please do not hesitate to contact our Head of Transition, Miss Laing, at Marden High School via email ([email protected]) or by telephone.
We have introduced a new and easy to use online Parents' Evening booking system. This allows you to choose your own appointment times with teachers and you will receive an email confirming your appointments. The new system also allows us to provide video appointments.
Year 11 Parents Evening will be held on Thursday 15 April from 4.00pm until 6.30pm. This event will be held remotely via our new remote Parents' Evening system.
Within this system you can put in the times you are available and who you would like to see and the system will create the appointments for you. 
As much as possible, please adhere to the protocol below: 
Where possible, use a neutral background.

Where possible, only Parents/Carers and the child for which the Parents' Evening is intended should be in view. 

Where possible, keep background noise to a minimum.

Book appointments between the opening of appointments of 12.00pm on Friday 26 March and close of appointments at midnight on Wednesday 14 April.
Please see below for a guide on how to login, book appointments and attend appointments over a video call.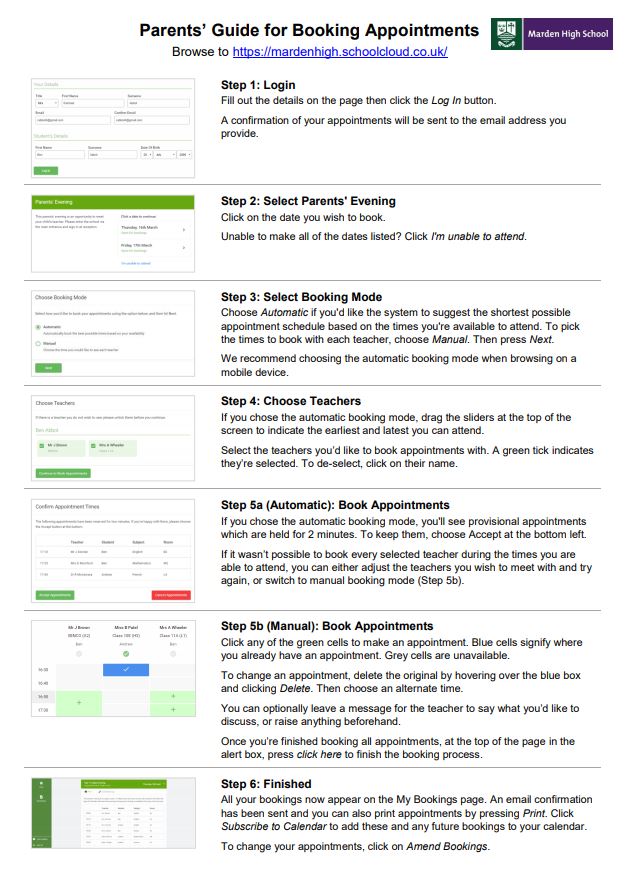 Information on Home Covid testing for students, parents and carers.