"Language is the army of the human mind. It at once contains the trophies of its past and the weapons of its future conquests." Samuel Taylor Coleridge
The English Department at Marden aims to promote creativity and self-confidence in a positive and caring environment where every individual is encouraged to progress towards their full potential. Throughout there is a clear focus on the development of literacy skills which underpin all work across the curriculum.  At both key stages we aim to engender a love and appreciation of literature but also encourage an awareness of the value of both non-literary and media texts. The programme of study at KS3 is structured specifically to ensure consistent skills progression across the key stage and to develop independence in preparation for Key Stage 4.
Our approach at KS3 is both exciting and innovative. Here we are aiming to develop creative and analytical skills through a wide variety of experiences and approaches. Walk into our classrooms and you might observe Year 7 students producing a short novel to be published on the school's kindle or they could be attending a party in role as a significant figure from our literary heritage; in Year 8 they might be creating a campaign supporting a relevant topical issue or they could be filming and editing their own footage for a trailer; in Year 9 they could be spearheading an advertising campaign or responding creatively to a digital photograph that they have taken. Key assessment pieces are designed to measure progress across the key stage and help to prepare the students for the demands of Key Stage 4.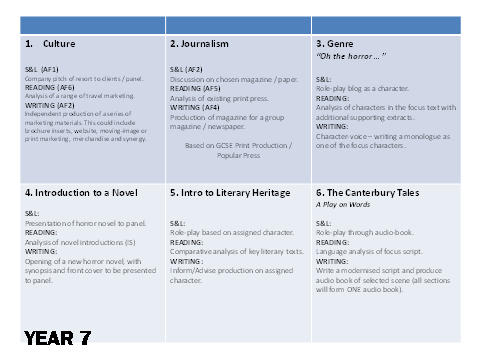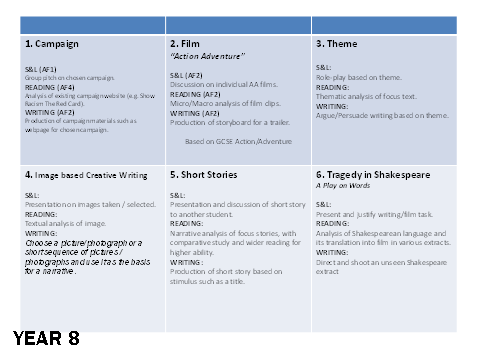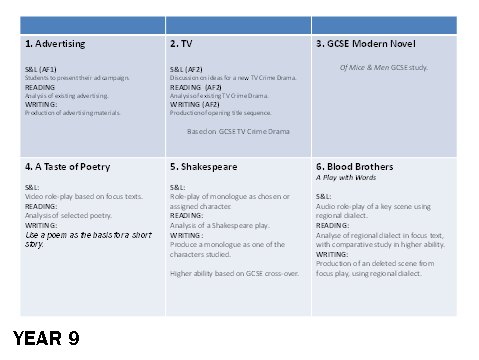 During Key Stage 3 all students will use an exercise book for planning and drafting work and a best work folder which will contain key assessment pieces.
Formative assessment
Books should contain regular formative assessment and target setting designed to help students make progress. Formative assessment links to the lesson objective and the specific assessment focus.
Summative assessment
Students will complete three formal assessments during the course of each unit of work. Each unit assessment will be summatively assessed and the student will again receive clear targets based on assessment criteria. Progress will be recorded on the flight path in their exercise book and in their Key Stage 3 Learning Log. Students are often asked to generate their own targets. All Assessment Focuses for Reading, Writing and Speaking and Listening will be revisited and re assessed during the key stage.
Independent Study
Independent study is an integral part of the learning process at key stage 3 and 4. In years 7 and 8 students are to complete timetabled IS tasks which will consolidate learning that has taken place in the classroom. On a weekly basis they will have spellings to learn and will be reading independently. This will be recorded in the student handbook.
In Year 9 and during Key Stage 4 homework tasks are set over a longer period of time, for example, preparation for controlled assessments.
Key Stage 4
During Key Stage 4 students complete planning and drafting work in their exercise book. They have two folders: one for Controlled Assessment work which will always be kept in school and a file for examination preparation.  As with Key stage 3, these books should have evidence of regular formative assessment and target-setting. Mock exams will be summatively assessed and targets will be set based on the specification's grade descriptors
Speaking and Listening at KS3 and KS4
During preparation for Speaking and Listening tasks student will be given formative feedback verbally and they will receive clear summative assessment for all speaking and listening tasks with targets based on the appropriate assessment criteria. This will be recorded on a record sheet which will be retained in their best work file.
KEY STAGE 4
Students will either take a combined course in English Language and Literature which accounts for tow GCSEs or a single qualification in GCSE English. More information about these options can be found at AQA's website: http://web.aqa.org.uk/
GCSE English Language will involve:
Investigative and analytical approaches to using language in different contexts.
Study of spoken language.
Creative writing.
Assessment through examination and controlled pieces.
Unit 1: External examination: 40% of the total GCSE marks
Unit 2: Speaking and Listening assessment: 20% of the total GCSE marks
Unit 3: Understanding spoken and written texts and writing creatively: Controlled assessment worth 40% of the total GCSE marks.
GCSE English Literature will involve:
The study of contemporary and literary heritage texts
Assessment through examination ( 75%) and controlled assessment (25%).
GCSE English will involve:
A combined course that will enable students to demonstrate their ability to use English in different contexts and benefit from a skills-based approach.
Assessment through examination and controlled pieces.
Unit 1: External examination: 40% of the total GCSE marks
Unit 2: Speaking and Listening assessment: 20% of the total GCSE marks
Unit 3: Understanding and producing creative texts: Controlled assessment worth 40% of the total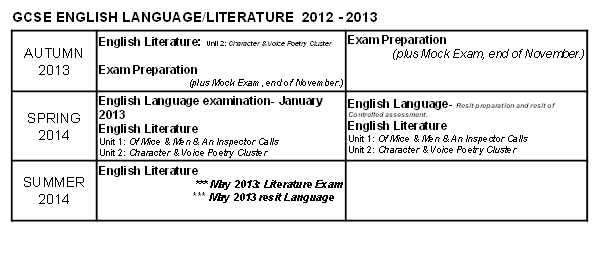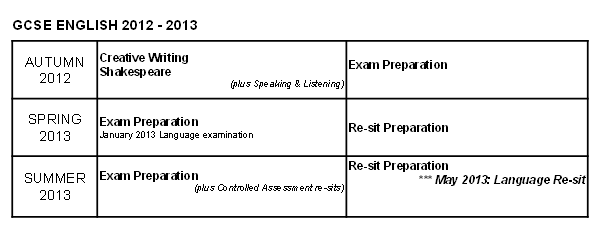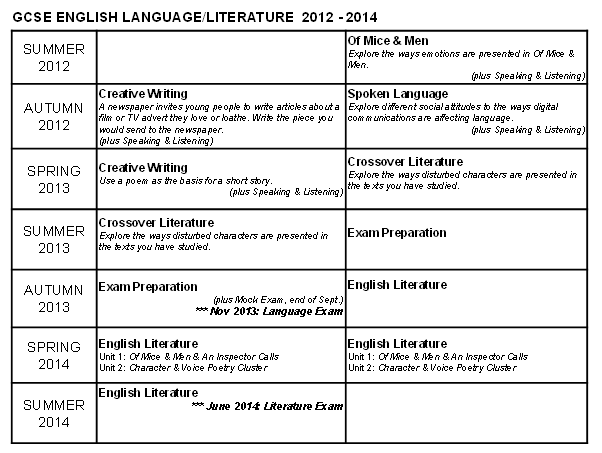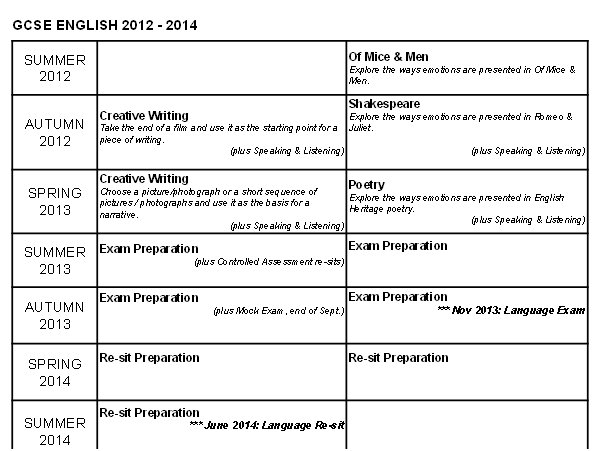 Extra curricular work
The English Department at Marden offers a wide range of extra-curricular enrichment activities activites:
Regular theatre and cinema visits
Reading and writing groups
School newspaper and magazine
BBC Newsday
NEBA
Times Spelling Bee
National Literature Quiz