In honour of Stress Awareness Week 2021, we're running a photography competition entitled 'My Peaceful Place'.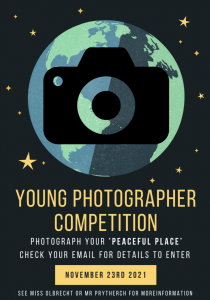 We'd like you to send us a photograph you have taken that represents your 'peaceful place', somewhere you are able to find respite and tranquillity when you're feeling overwhelmed. Images must be no larger than 1GB and should be submitted with a title and a short caption explaining the image's significance (no more than 50 words). Email your entry to Miss Olbrecht or Mr Prytherch by 23rd November.
Have a look at the website for more information.